If the error "Insufficient disk space" appears, it is advisable to clean up the disk using a special program that comes with Windows 7 and Windows 8. This program (cleanup tool) scans files that are not needed for work and allows you to delete all or some of them to free up disk space.
Using the cleanup tool, you can perform the following tasks:
Deleting temporary files.
Deleting downloaded application files (for example, ActiveX control and Java application files downloaded from the Internet).
Emptying the recycle bin.
Removing unused Windows additional components.
Removing installed programs that are not currently in use.
Please note, the FAT32 file system is not supported.
In some cases, the operation may take a long time.
Running the Program in Windows 7
Click Start>All Programs>Accessories>System Tools.
Right-click Disk Cleanup and select Run as administrator in the context menu.
Running as administrator allows you to immediately access the cleanup of system files, as well as two additional cleanup methods. If you do not run the utility as an administrator, you can proceed to cleaning the system files later, but then you will have to wait again until the utility scans the disk.
Running the Program in Windows 8
On the desktop, right-click the lower left corner of the screen and select Find>Options from the context menu.
Enter 'Disk Cleanup' in the search field.
See the results, then select Free up disk space by deleting unnecessary files.
After launching the program, select which of the disks to clean up.


Disk scanning will start once you click OK.

"Disk Cleanup" Tab
If you select the file category and click View Files, you will be able to perform a selective cleanup of file folders. Skip this item if there are no important files in the Recycle Bin or other folders.


In the Disk Cleanup tab, check off the unneeded files and go to the More Options tab (please note: there is no More Options tab in Windows 8).
More Options Tab
If you do not want to delete unused programs or system restore points, click OK and cleanup will begin.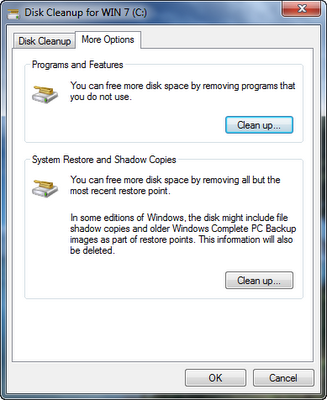 Programs and Features. Select Programs and Features in the Control Panel to remove unused programs. The Size column in the Programs and Features section shows how much disk space is used by each program. If necessary, remove any rarely used programs.
System Restore and Shadow Copies. This component removes all restore points except the last one from the disk. When performing a system recovery, restore points are used to revert the system files to a previous state. If your computer is running smoothly, delete the early restore points to free up disk space. In some Windows 7 editions, restore points may include previous versions of files (so-called shadow copies) and backup images created by Windows Complete PC. These files and images will also be deleted.