A Platoon is a formation of several players. Platoons always belong to the same team in a battle.
You can play in a Platoon in the following modes:
Random Battles (Standard, Encounter, and Assault modes, as well as Grand Battle)
Frontline
Steel Hunter
Special modes for certain game events
A mode or event should be selected before creating a Platoon.
How to Create a Platoon
Click Create Platoon to the left of the Battle! button.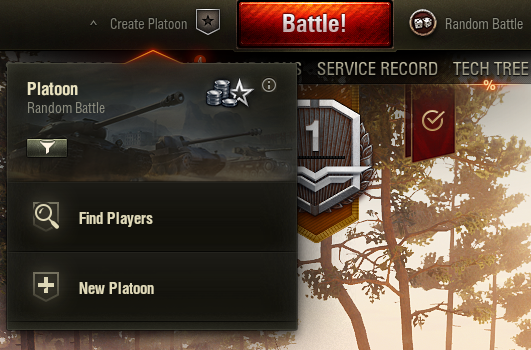 Click New Platoon in the drop-down menu. The Platoon window will open. Then click Invite Players.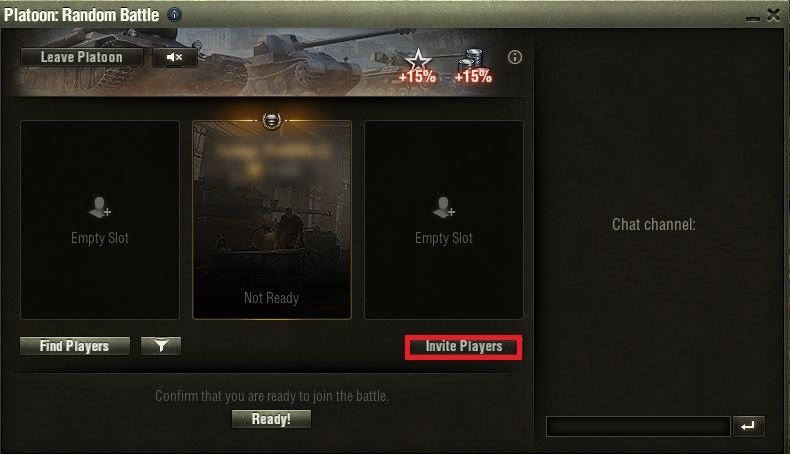 In the Invite to Tactical Unit window, drag players from your contact list to the right side of the window. If a player is not among your contacts, click Search Outside Contact List.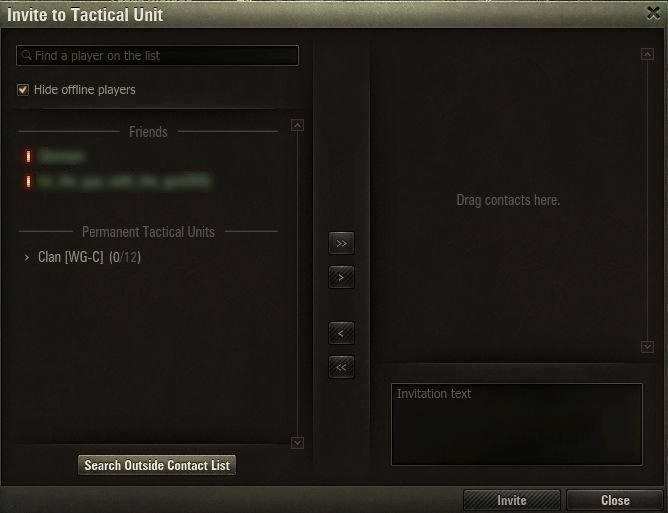 Add a message to your invitation, if you'd like.
Click Invite. Your selected players will receive your invitation and join the Platoon as soon as they accept.

You can also click the Contacts button in the bottom-left corner of the Garage to invite a friend to your Platoon. In the contact list, right-click their name and select Invite to tactical unit.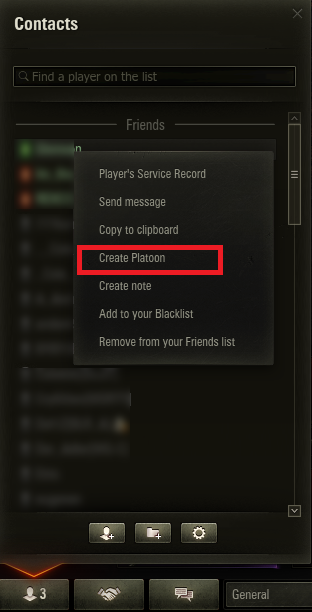 If your friends don't respond to your invitation, use the player search.
How to Search for Players
You can find players for your Platoon easily—and automatically. To do this, click Find Players in the Create Platoon drop-down menu.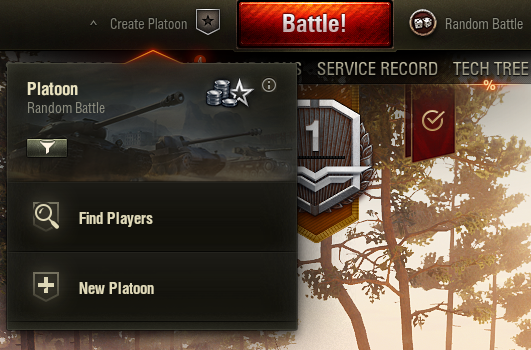 The following criteria are taken into account during the automatic search:
World of Tanks Rating (WTR): Players with similar WTR values are matched into one Platoon.
Number of battles fought on each vehicle tier: A comparison is made between the number of battles that each player has fought in a specific tier. Only tiers of vehicles that are in a player's Garage and ready for battle are considered. Players with similar characteristics in each available tier can join the same Platoon.
Server: The search is performed among players on the same server.
Available vehicles: Players are matched according to the number of vehicles of each tier in their Garage. Only vehicles that are ready to enter battle are considered.
The currently selected vehicle does not affect the search results. You will be able to select another vehicle before going into battle.
Clan members: Your clan mates have a better chance of joining your Platoon.
In addition to the main search criteria, you can set your own parameters:
Vehicle tiers: Select vehicle tiers for Platoon players. The system will then only search for players who have vehicles of your specified tiers in their Garage.
Voice chat: Select this parameter if you prefer to communicate with your Platoon members via voice chat. This option is unavailable if you disabled voice chat in the game settings.
To select players from the menu in the Garage, click the filter icon and select the desired parameters.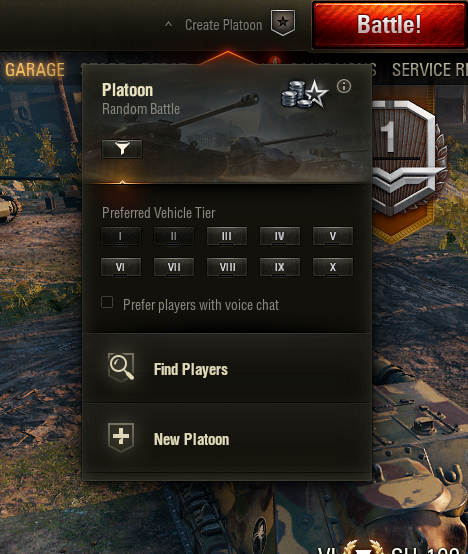 To find players from the Platoon window, click the Find Players button.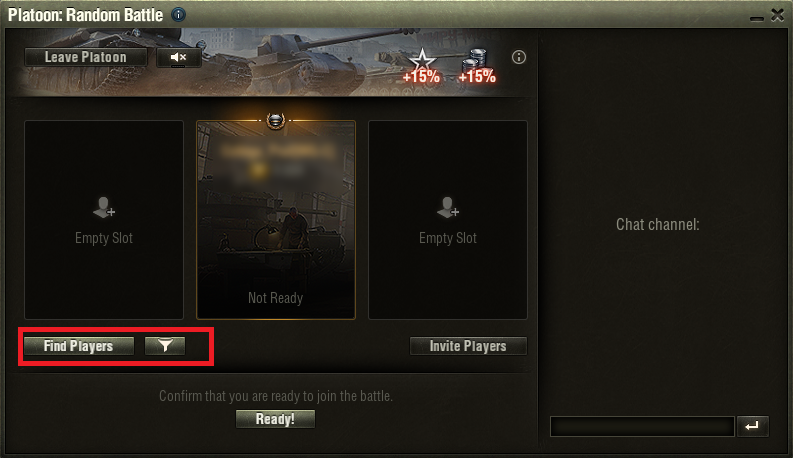 If no players with the required vehicle tiers are found, the system will continue to search for players with other vehicle tiers.
Note: When the automatic search starts, all unanswered invitations to your Platoon are canceled.
You can limit who can invite you to a Platoon. To do this, go to the General tab in the game settings and select the Accept invitations only from friends in the Garage option, then click OK.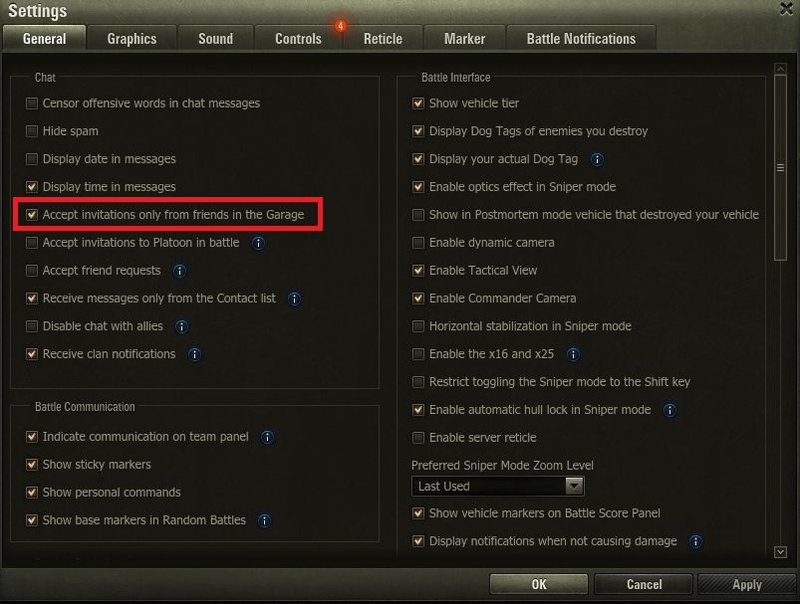 To fight in a Platoon, select the required vehicle from your Garage and click Ready! in the Platoon window. Then wait for your fellow Platoon members to confirm their readiness.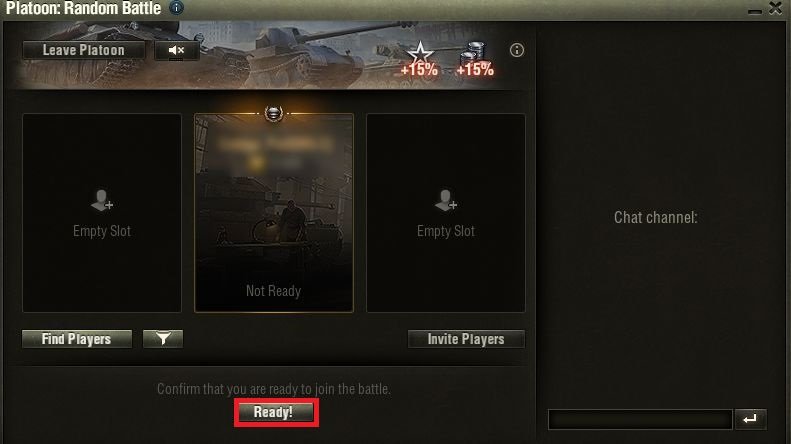 Once everyone is ready, click Battle!
Additionally, there is an option to create a Dynamic Platoon during a battle. To learn how, follow this link.