To make your vehicle a truly individual and unique battle machine, you can customize its exterior. To customize the whole vehicle or just some parts, please follow the steps below:
Choose a tank you wish to customize and click on Exterior (marked in green).


Now you will be faced with various customization options marked in green. Elements at the bottom of the screen can be obtained from missions, special events, purchases, and various promotional packages, such as Twitch.


Progressive Elements on the left differ from the rest because they are based solely on your performance in battle. They become available as you progress through the ranks.

Finally, when you have chosen your new look, click on Apply and Exit and test it out in battle.
How to hide non-historical elements
Go to Settings > General. In the "Display of customization elements in battle" section, select Historical. Only historical customization elements will now be visible in the game.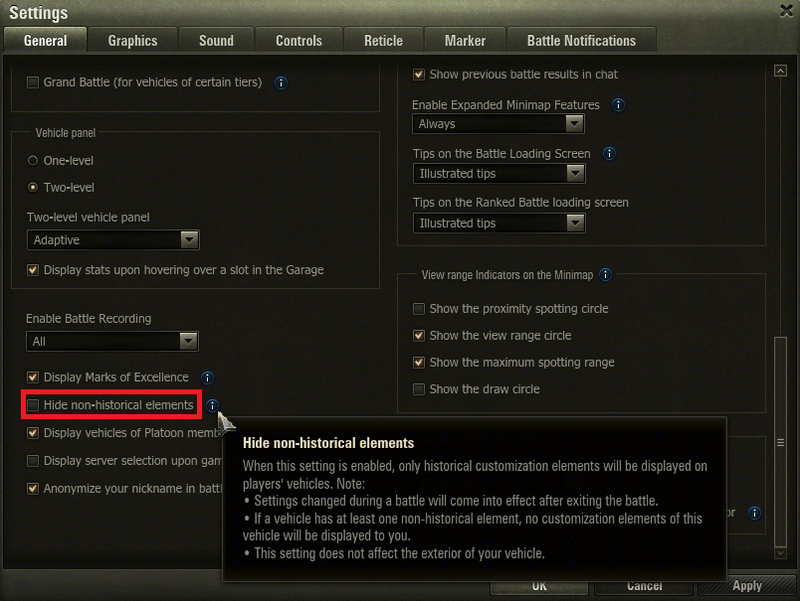 My camouflages, inscriptions, emblems, etc. are missing
Go to Exterior (in the Garage) > Click Applied or In Depot to enable/disable the filter, on the bottom left side of the screen.
Some customizations are unique to certain tanks, so you won't find them on other tanks.
Some camouflages/styles (such as Clan Wars styles) lock to the tank on application and can't be used on other tanks.
If you checked the above, clean the cache of your game client and see the result.
Good to know
Some tanks like the Skorpion G or STG Guard come with a default style which can't be removed. Further customization of those tanks is not possible.
More information about customization HERE.
Player Support will only investigate missing customization elements if the assets were first obtained in the last 48 hours.