Experience (XP) is an in-game resource that you earn in battles. You can use XP to research modules and vehicles before purchase, and to train crew members.
Combat XP
Accumulated for each researchable vehicle separately. It can be spent on researching modules of that vehicle or unlocking the next vehicle in a technical branch.
Good to Know
Vehicles with all modules and subsequent vehicles researched acquire Elite status.
Combat XP is earned for each Elite vehicle separately. It can be spent on Accelerated Crew Training of this vehicle's crew or converted to Free Experience with gold.
All Premium vehicles are Elite.
Free XP
After battle, 5% of Combat XP is converted to Free XP. You can use Free XP to research any module or vehicle, and to accelerate perk and skill training for your crew.
Special Events can increase the percentage of Free XP you get after Battle.
Crew XP
Every crew member receives experience equal to the amount you earn in battle. Crew XP is spent on crew training: improving their major qualification and acquiring new perks and skills.
Crew Training
Combat XP accumulated on an Elite vehicle can be used to accelerate crew training on the vehicle.
Free XP can be spent on training the perks and skills of any vehicle
Accelerate Crew Training
This feature, available above your tank Commander in the Garage, invests ALL the XP earned in a battle into your Crew. The least experienced Crew member will receive twice as much XP as the rest. This is indicated by an icon next to the crew member's picture.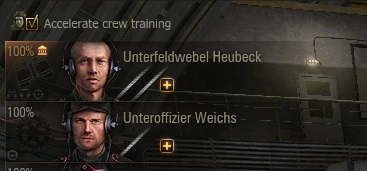 This feature is only available for Elite tanks, with all modules researched.
Experience Conversion
Combat XP earned on Elite vehicles can be converted to Free XP with gold. You can use Free XP to research any module or vehicle.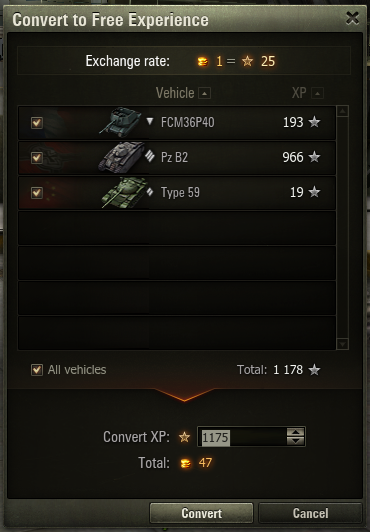 Conversion Rate
Special Events can lover the Conversation Rate.
Module Research
Modules change and enhance vehicle characteristics, but you need to research them using XP before they can be purchased. Combat XP, accumulated on a researchable vehicle, can be used for researching its modules. Free XP can be spent on researching any module.